District Child Protection Office
Last Updated on: July 27, 2022
Office of the District Child Protection Officer, Majuli
Brief Overview of the Department
Location: NLK Road, Garamur, Majuli, Opposite of Office of the PWD(Roads), Majuli.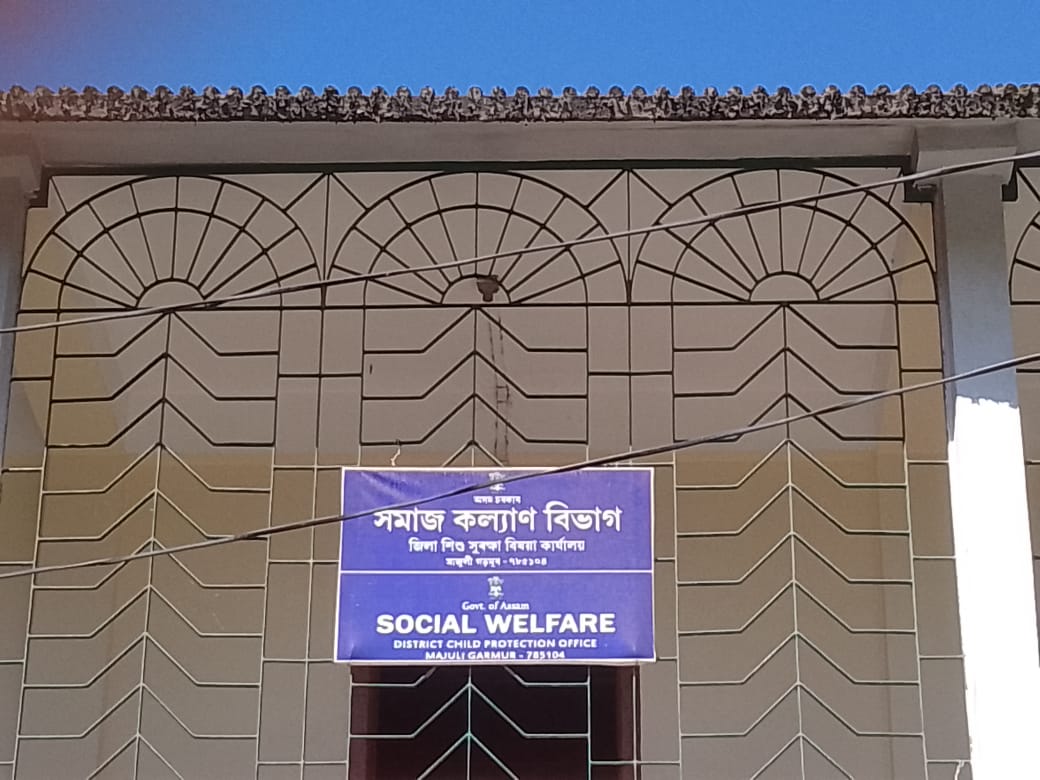 Introduction:   Child Protection service for protection of Child right and best interest of the child. The scheme is developed to improved the well being of children in difficult circumstances, as well as to help prevent children from abuse, neglect, exploitation, violence etc.  The District Child Protection Unit (DCPU), Majuli was established on 29th August, 2018. This unit is headed by District Child Protection Officer. The unit consist of –CWC (Child Welfare Committee), JJB (Juvenile Justice Board) & also close coordination with Child line (NGO), Majuli.
Aims and Objective: The objective of the unit is to contribute to the improvement in the well being of children in difficult circumstances, as well as to the reduction of vulnerabilities to situations and actions that lead to  abuse, neglect, exploitation, abandonment and separation of children from parents. This will be achieved by:
Improved access to and enhancement in quality of Child Protection Services.

Enhancement of capacities at all levels on Child Protection.

Raising public awareness about the reality of Child rights situations and Protection in India.

Creating a knowledge and information database for Child Protection Services.

Evidence based monitoring and evaluation.
Functions:     
The DCPU co-ordinate and implement all child rights and protection activities at District Level such as- Child Marriage, Child Labour, Child Trafficking etc.

 Assess the number of children in difficult circumstances

 Map all child related service providers and services at district for creating a    resource directory.

Support implementation of family based non-institutional services including sponsorship, foster care, adoption and after care.

Ensure setting up of District, Block and Village level Child Protection Committees for effective implementation of programmes as well as discharge of its functions.

Network and co-ordinate with all government departments to build inter-sectoral linkage  on child protection issues, including departments of health, education, police, judiciary, labour, voluntary and civil organizations working in the field of child rights and protection.

Maintain database of all children in institutional care and non-institutional care at the district level.
Present Staff Position of the Office:
Sl No

Name of the Post

Name of Officer/ Officials

1

District Child Protection Officer (i/C)

Shri Debanarayan Haazarika, ACS, Assistant Commissioner, Majuli

2

Office Assistant Cum Data Entry Operator

Sri Abinash Saikia and Sri  Pradipta Mudoi

(On Daily Wages Basis)

3

Outreach Worker

Sri Milan Ozah(Contractual Basis)

4

Messenger, Peon cum Chowkider

Sri Chandrakamal Hazarika (On Daily Wages Basis)
Single Parent Child produce before CWC:
Found a child labour case and after enquiry transfer the child from Majuli to Lakhimpur CCI:
An Orphan Child named Ankur Saikia produced before CWC: