Animal Husbandry and Veterinary
Last Updated on: July 30, 2022
Office of the District A.H. & Veterinary Officer, Majuli
Office Address: 
Office of the District A.H. & Veterinary Officer, Majuli,
Kamalabari, PO- Kamalabari, Pin: 785106
Contact Number:  7002545522
GOVT. INSTITUTIONS UNDER A.H. & VETERINARY DEPARTMENT-UNDER MAJULI SUB-DIVISION.

1. Name of the Dist.

2. No. of Sub-Divs.

3. No. of Dev. Blocks

4. No. of Vety. Dispensaries

5. No. of Block Vety. Dispy.

6. No. First Aid Centre

7. No. of Sub-Centre

Majuli

1 no. ( Majuli)

2 Nos.

3 nos.

1 no.

3 nos.

11 nos.
Livestock Population (as per 19th L/S Census, 2012):
| | | |
| --- | --- | --- |
| Sl. No. | Livestock | Population (in Nos) |
| 1 | Cattle     | 1,23,762 |
| 2 | Buffalo | 6,245 |
| 3 | Goat  | 20,342 |
| 4 | Sheep | 69 |
| 5 | Pig | 34,345 |
| 7 | Duck & Poultry | 1,06,631 |
Animal Husbandry & Veterinary - List of Institutions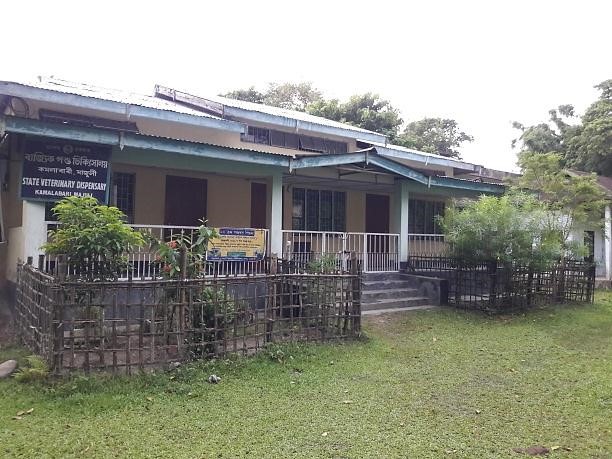 ON-GOING SCHEMES OF ANIMAL HUSBANDRY & VETERINARY DEPARTMENT
ARTIFICIAL INSEMINATION IN ANIMALS (AI):
Artificial Insemination of Animals in the state is mainly looked after by the Assam Livestock Development Agency (ALDA).
Doorstep AI

:
The Department of AH & Veterinary through ALDA provides scientific doorstep AI facilities for cattle, goats and pigs. This is facilitated by Field Veterinary Officers, Para Vets or by trained unemployed youth. The Department will guide the farmer through the process and provide him with assistance at every step.
AI centre at Majuli
High quality frozen semen of good quality bull available at all of the three State veterinary dispensary of the district. Frozen semen for AI in goat available at State Veterinary Dispensary, Kamalabari, Ratanpur and Jengraimukh. Another two veterinary Sub-centres at Karkichuk and Bangaon have the facility of AI and semen storage. For more detail contact your nearest Vety. Dispensary.
DISEASE CONTROL PROGRAMMES:-
National Animal Disease Control Programme  (NADCP)
National Animal Disease Control Programme (NADCP) is a flagship scheme launched by Hon'ble Prime Minister in September, 2019 for control of Foot & Mouth Disease and Brucellosis by vaccinating 100% cattle, buffalo, sheep, goat and pig population for FMD and 100% bovine female calves of 4-8 months of age for brucellosis with the total outlay of Rs.13, 343.00 crore for five years (2019-20 to 2023-24).
                          To eradicate FMD and Brucellosis:- In our District also necessary action plan has been taken to coverage 100 % .The  FMD vaccination  Programme had started from 15th  Nov.2020. 
Under the NADCP in Majuli district  65000 FMD vaccine has been inoculated.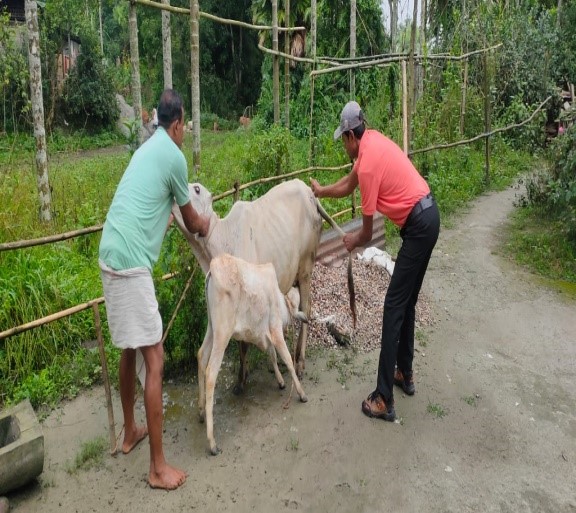 National Livestock Mission (NLM) 2019-2020 (Farmer training:-
            Innovative Poultry Productivity Project (IPPP) has taken for implementation with 160 Nos. of beneficiaries for improving the poultry sector. Cluster basis 160nos. of beneficiary selected from two villages Burha Senchowa & Ratanpur Lahon. 6400 Nos of chicks has been distributed amongst the beneficiaries in two phases.
State Sponsored Schemes:-
Chief Minister Samagra Grammya Unnayan Yojona (CMSGUY):
 To organize the 4500 youths and women into 450 SHGs with a proper training and capacity building with technical inputs from the Animal Husbandry and Veterinary Department with regard to the training, disease prevention, stock selection and other technical issues with the livestock venture.
Activity

Group

Type

SHG

Nos.

No. of Beneficiary in SHG

Total No. of Beneficiary

Physical Unit

Cattle Dairy

SHG

10

10 Person

100

2 Dairy Cow

Goat

SHG

40

10 Person

400

1M + 10F

Pig

SHG

250

10 Person

2500

1M + 5F

Poultry

SHG

150

10 Person

1500

50 Birds

Total

 

450

 

4500

 
Training of selected beneficiaries completed during 2nd April 2022 to 12th April 2022
Other Activities:
Services during flood, 2022
Cattle feed distribution as flood relief
Treatment cum vaccination camp